الهيئة النقابية للأطباء السودانيين بالمملكة المتحدة
_________________________
*الممثلون الاقليميون للنقابة*
تبذل اللجنة التنفيذية جهوداً متواصلة من أجل الوصول للأطباء السودانيين المقيمين بمختلف مناطق المملكة المتحدة وتشجيعهم على الانضمام للهيئة النقابية للأطباء السودانيين بالمملكة المتحدة والمشاركة الفاعلة في نشاطاتها المختلفة.
في هذا الإطار ترغب اللجنة في إستقطاب عدد من أعضاء النقابة ممن لديهم الرغبة والمقدرة على القيام بدور الممثلين الاقليمين في مناطق المملكة المتحدة المختلفة من أجل تشجيع الأطباء السودانيين للانضمام للنقابة وعكس احتياجات ونشاطات الأطباء السودانيين في مناطقهم للجنة التنفيذية بالإضافة للمساهمة في توسيع دائرة المشاركة في مختلف فعاليات الهيئة النقابية. للتقديم الرجاء ارسال ايميل الى مكتب العضوية (membership@sdu.org.uk) مع تحديد المنطقة ويفضل كتابة نبذة قصيرة عن خطة الممثل لزيادة نشاط النقابة في المنطقة المعينة
*(المناطق محددة على الملصق المصاحب)* يمكنكم الاطلاع على واجبات ومهام الممثل عبر الرابط ادناه:
https://www.sdu.org.uk/regional-representatives/regional-representatives-bylaws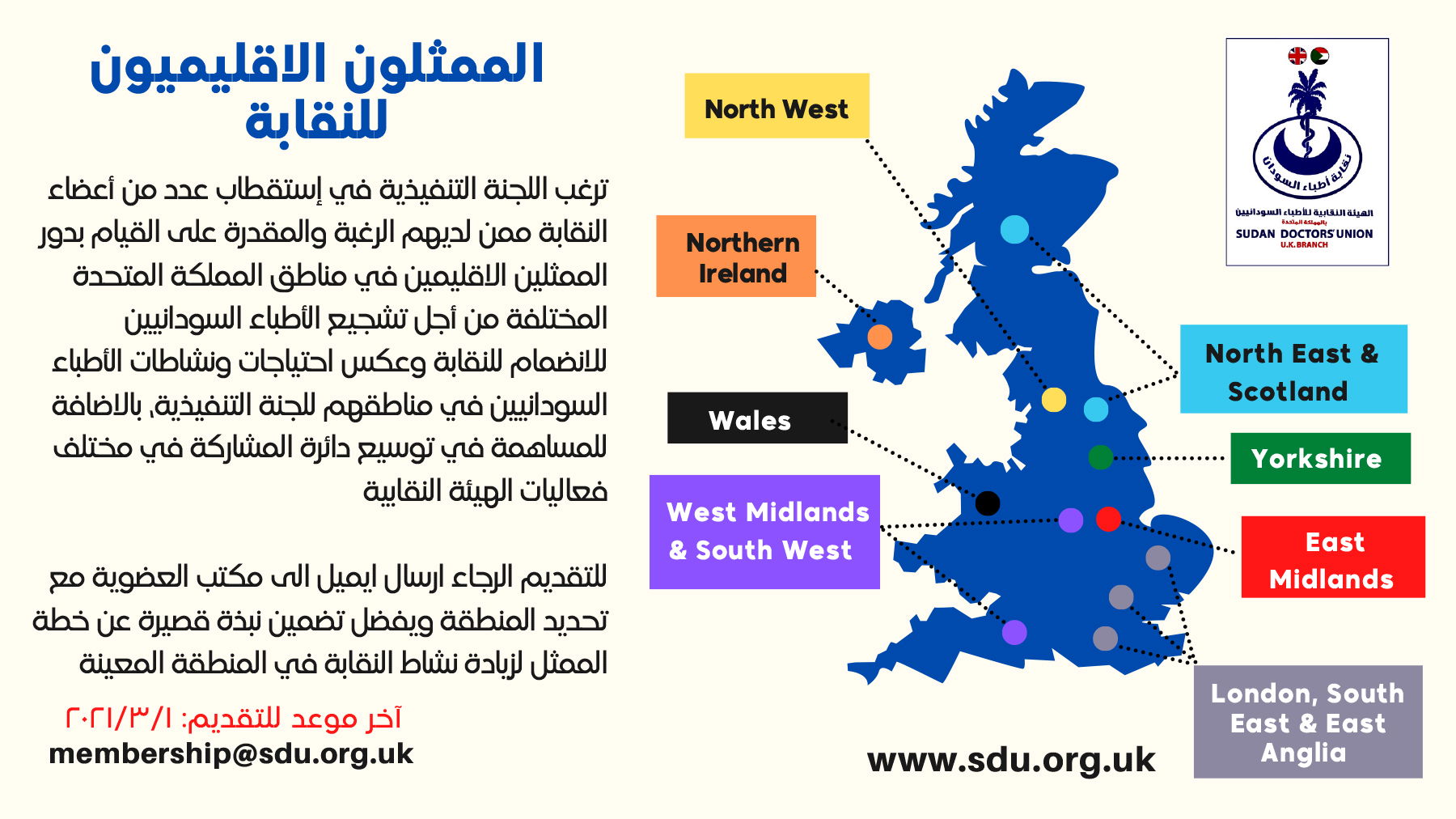 *SDU-UK's Regional Representatives*
The SDU-UK is currently looking for enthusiastic and motivated members to act as regional representatives.
The representatives' role is to help reach out to all UK-based Sudanese doctors, enhance the union's membership and promote its activities.
They are also expected to offer services and address the needs of these doctors.
If you are interested, please email the membership office (membership@sdu.org.uk), preferably including a summary of your plan on expanding the SDU-UK activities in your region *(the regions are specified in the attached poster)*.
For more information about the roles and responsibilities of the regional representatives follow the link below:
https://www.sdu.org.uk/regional-representatives/regional-representatives-bylaws
*Deadline: 01/03/2021*