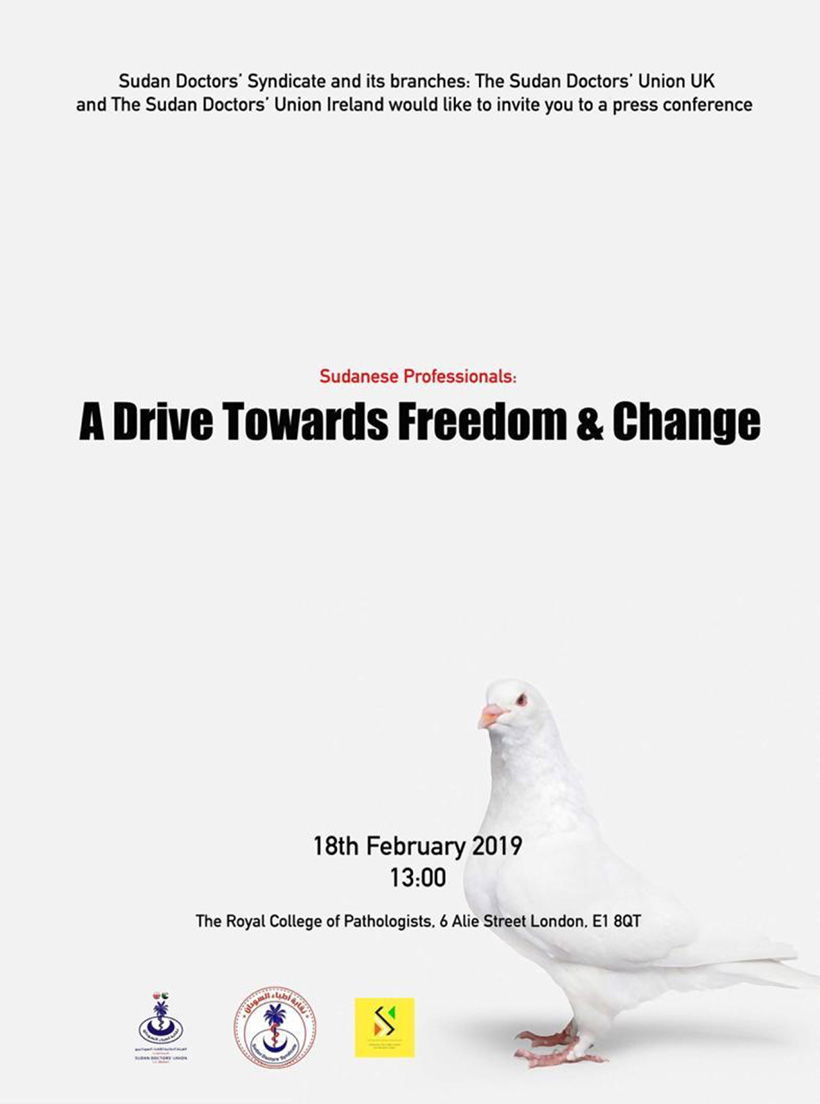 Invitation to press conference
Organisers
Sudan Doctors' Syndicate and its branches:
The Sudan Doctors' Union UK
The Sudan Doctors' Union Ireland
We would like to invite you to a press conference on:
Sudanese Professionals: A Drive Towards Freedom & Change
The conference aims to highlight the resilience and valour of Sudanese doctors who have been catapulted into caring for patients in a conflict zone whilst themselves being detained, beaten and shot at.
The Regime's systematic breakdown of the health and education sectors and the massive brain drain during the 30 years of dictatorship does not come as a surprise.
The main emphasis will be on the challenges of the continuing struggle for freedom and the collaboration of all professionals in the making of a new Sudan.
Date: 18th February 2019
Programme:
13:30 - 13:35
- Introduction about the uprising in Sudan
13:35 - 13:45
- The attacks on doctors and health facilities 13:45 - 13:55
- The trends of violence against protestors
13:55 - 14:05
- MedAct in solidarity with health professionals in Sudan
14:05 - 15:00
- Q&A
15:00 - 15:30
-Coffee break / Sudan revolution art gallery
15:30 – 16:30
Guest speakers:
Dr Babiker Yahia 'History of Sudanese professionals in change and freedom'.
Dr Magda Mohammed Ahmed 'Health services in conflict zones'
16:30 -16:45
SPA deceleration of freedom and change
Photo gallery
Sudanese revolution art & music
Location:
The Royal College of Pathologists
6 Alie Street
London
E1 8QT