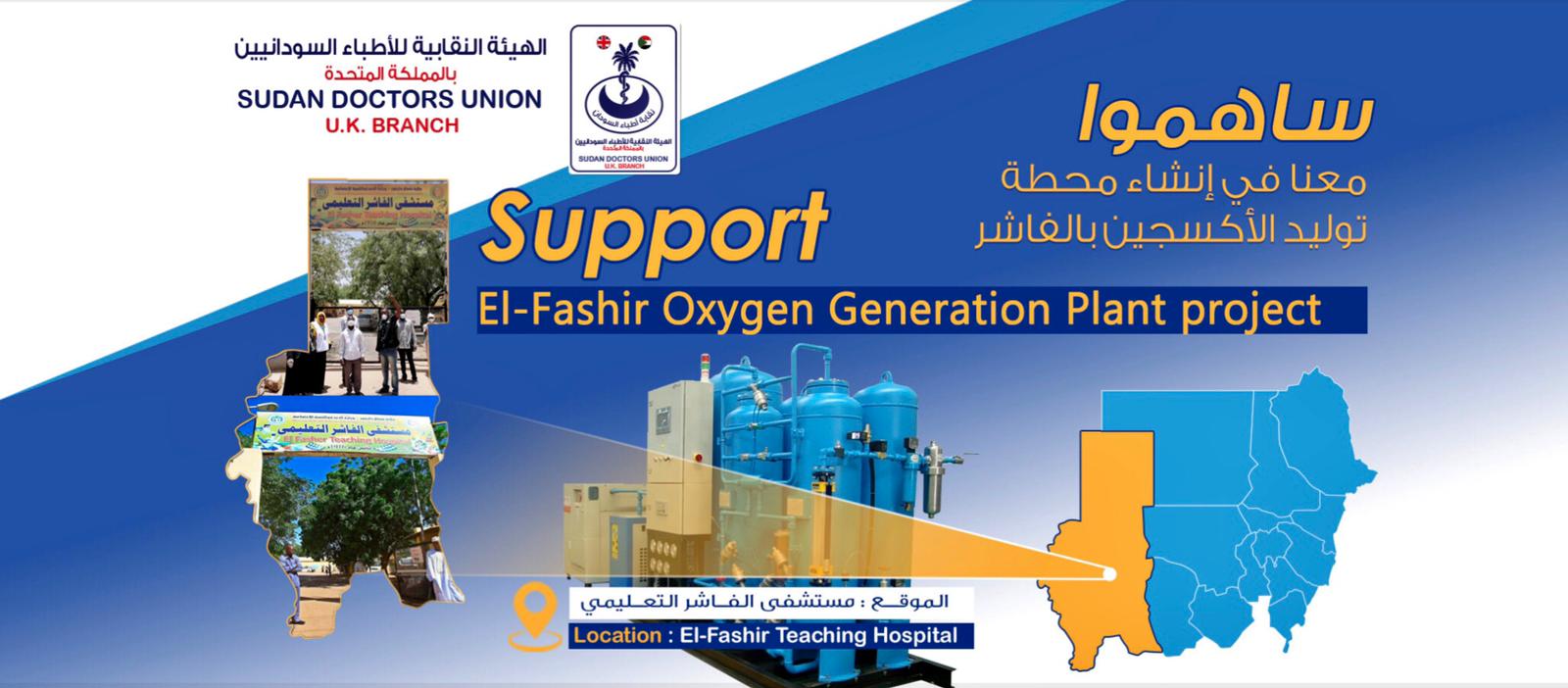 28/4/2021
ادعم مشروعنا لإنشاء محطة توليد أكسجين بولاية شمال دارفور (السودان)

تعتبر ولاية شمال دارفور من أكثر مناطق السودان تأثراً بجائحة الكورونا. بالرغم من ذلك، مازالت الولاية تعتمد على امدادات الأكسجين من العاصمة الخرطوم والتي تبعد قرابة ال١٠٠٠ كيلومتر من الولاية.

لذلك فان الولاية في أشد الحوجة لمحطة أكسجين والتي نخطط لانشائها بمستشفى الفاشر التعليمي الذي يخدم ما يقارب ٣ مليون مواطن، منهم ٦٤ الف من النازحين.

ستساهم تبرعاتكم في انشاء محطة توليد الاكسجين بالاضافة الى نظام تعبئة لأسطوانات الاكسجين وشبكة أنابيب مكمّلة. تبلغ تكلفة المشروع الكلية ما يقارب ال١٢٠ الف جنيه استرليني.

ستتم إدارة المشروع بواسطة الهيئة النقابية للأطباء السودانيين بالمملكة المتحدة بالتعاون مع إدارة المستشفى والسلطات المحلية وجمعية المهندسين الطبيين السودانيين بالمملكة المتحدة والتي ستكون مسؤولة من الجوانب الاستشارية والفنية للمشروع. يعتبر هذا المشروع هو الثاني للهيئة النقابية ويأتي بعد تدشيننا لمحطة أكسجين القضارف التي تعمل الآن بسعة كاملة.

لمزيد من المعلومات عن المشروع يمكنكم التواصل مع المكتب المالي عن طريق البريد الالكتروني
treasurer@sdu.org.uk

نشكركم على تبرعاتكم السخية


#مستشفى_الفاشر_التعليمي
#كل_البلد_دارفور
#نقص_الاكسجين
#مشروع_اكسجين_الفاشر
#OxygenShortage
#OxygenCrisis
#OxygenEmergency
#oxygen
#Elfashir_Oxygen_Project
#اكسجين
---------------------------------
Please help us set up an Oxygen Generation Plant for the people of North Darfur state (Sudan)!

North Darfur was one of the most stricken regions in Sudan with COVID-19. Unfortunately, the area still relies on oxygen supplies being transported from the capital Khartoum which is around 1000 kilometres far away.

The much needed project will be established at El-Fashir Teaching Hospital which serves a population of approximately 3 million, of which 64000 are internally displaced.

Your donations will be used to set up a local oxygen generation station with oxygen cylinders filling system and a supplementary pipelines network. The total cost of the project is approximately £120,000.

The Sudan Doctors Union - UK Branch (SDU-UK) will manage the project in collaboration with the hospital administration, local authorities and the Association of Sudanese Medical Engineers in the UK (acting as the technical support team). This is the SDU-UK's second oxygen scheme in Sudan and comes following the successful launch of Al-Gadarif Hospital Oxygen Pant which is now fully operational.

For more information about the project please contact our treasury office at:
treasurer@sdu.org.uk

Thank you for your generous donations!
28/04/2021